DIRECTOR & CHIEF INSTRUCTOR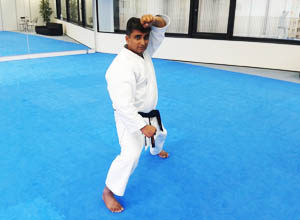 SHIHAN SACHIN CHAVAN
KWF INDIA CHIEF INSTRUCTOR, LEADER & REPRESENTATIVE OF KWF (HQ) FOR INDIA
A young engineer in industrial electronics, decided not to be a part of the rat race and choose to follow his heart instead. He had a passion for the sacred martial art of karate and an innate desire to teach and promote his art.
Commencing karate training as a student at the age of 10, he has now been an ambassador of his art of Martial Science since the last thirty three years and dedicated his time and energy tirelessly, in mentoring and training young boys and girls and gifting the country good, strong, responsible citizens or you could call them civil soldiers trained by Shihan Sachin Chavan.
RISING FROM SCRATCH, TODAY MR. SACHIN CHAVAN HAS WON NUMEROUS ACCOLADES, OF WHICH SOME PROMI
NENT ONES ARE:
| | |
| --- | --- |
| • | 6th DAN BLACK BELT – KARATENOMICHI WORLD FEDERATION (JAPAN) |
| • | 5th DAN BLACK BELT – WORLD KARATE FEDERATION (SPAIN) |
| • | 5th DAN BLACK BELT – ALL INDIA KARATE – DO FEDERATION |
| • | 4th DAN BLACK BELT – JAPAN KARATE ASSOCIATION (JAPAN) |
| • | INTERNATIONALLY CERTIFIED INSTRUCTOR, REFEREE AND EXAMINER – KWF (JAPAN) |
| • | ASIAN KARATE FEDERATION – KUMITE – JUDGE "B" (MALAYSIA) |
In what we could call the second innings of his karate journey, Shihan Sachin Chavan is working towards promoting karate in the corporate lifestyle so that they could avail the benefits of this traditional art form.
To make it more appealing to the masses he has come up with this refreshing concept of KARAYOBICS (www.karayobics.com) which is a distinct fusion of frenzy of Aerobics, Calmness of Yoga and instills Samurai Spirit of Karate clubbed with guidance in Nutrition & healthy Diet.
APPRECIATION RECEIVED :
| | |
| --- | --- |
| • | FELICITATED BY THE EX – PETROLEUM MINISTER (GOVT. OF INDIA) HONORABLE SHRI. RAM NAIK JI IN 2001 FOR IMPARTING QUALITY ORIENTED KARATE TRAINING TO THE YOUTH OF THE COUNTRY |
| • | AWARDED SPECIAL APPRECIATION LETTER AND FELICITATED BY THE HONORABLE EX MAYOR OF MUNICIPAL CORPORATION OF GREATER MUMBAI DR. MRS. SHUBHA UMESH RAUL ON THE 14TH AUGUST 2008 FOR RENDERING OUTSTANDING SERVICES TO PROMOTE KARATE IN THE STATE OF MAHARASHTRA & AT THE NATIONAL AND INTERNATIONAL LEVEL. |
| • | FELICITATED BY THE ASSISTANT COMMISSIONER OF POLICE (NORTH CONTROL – MUMBAI REGION) HONORABLE SHRI. JAYPRAKASH JADHAV JI IN APRIL 2010 FOR IMPARTING KARATE TRAINING TO SCHOOL CHILDREN, YOUTH AND SENIOR CITIZENS. |
| • | FELICITATED BY THE MEMBER OF PARLIAMENT HONORABLE SHRI. SANJAY NIRUPAM JI ON THE 1ST OF MAY 2011 FOR KARATE ACHIEVEMENTS AND OUTSTANDING SERVICES RENDERED IN IMPARTING KARATE TRAINING TO THE CITIZENS IN HIS CONSTITUENCY. |
| • | FELICITATED BY THE ADDITIONAL COMMISSIONER OF POLICE (MUMBAI – NORTH REGION) RESPECTED SHRI. RAMRAO PAWAR SIR (IPS) ON THE 4TH NOVEMBER 2011 FOR IMPARTING KARATE TRAINING TO THE STUDENTS IN CIVIL SOCIETY, MAKING THEM MOLD BETTER FOR FUTURE. |
| • | FELICITATED BY THE CHIEF CONSERVATOR OF FOREST & DIRECTOR OF SANJAY GANDHI NATIONAL PARK (BORIVALI EAST – MUMBAI) SHRI. SUNIL LIMAYE (IFS) ON THE 4TH NOVEMBER 2011 FOR RENDERING OUTSTANDING SERVICES IN IMPARTING KARATE & SELF DEFENSE TRAINING TO THE MEMBERS OF THE CIVIL SOCIETY. |
| • | FELICITATED BY THE MEMBER OF PARLIAMENT FROM NORTH MUMBAI CONSTITUENCY HONORABLE SHRI. SANJAY NIRUPAM JI ON THE 6TH MAY 2012 FOR QUALIFYING AS AN ASIAN KARATE FEDERATION "JUDGE" IN THE AKF EXAMINATIONS CONDUCTED IN KUALA LUMPUR, MALAYSIA FROM THE 20TH APRIL TO THE 22ND APRIL 2012. |
| • | APPRECIATED BY MANY CORPORATE ORGANISATIONS AND NGO's FOR EMPOWERING WOMEN IN LIFE SKILLS |